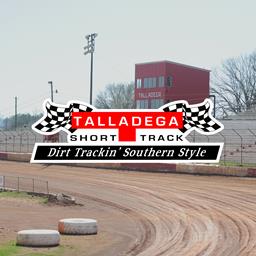 12/29/2021
Talladega Short Track
---
Tech Bulletin for 31st Annual Ice Bowl
Competitors in the Super Late Model, Crate Racin' USA Late Model (604), TST Sportsman/Limited, CRUSA LM Sportsman (602), CRUSA Street Stocks, and CRUSA Modified Sportsman will be allowed 6 total tires for the weekend.
The 4 tires used for Qualifying, Heat Races, and B-Mains will be marked in pre-race tech. Two additional tires will be allowed for the Feature event on Saturday. Those two new tires will not have to be marked, with two of the original marked tires still in place on the car. Any other tires changed would result in the competitor starting on the tail of the next event whether that be a Heat Race, B-Main or Feature event. Flat tires can be changed during the feature which will also result in being sent to the tail of the field.
If a tire is flat or punctured, competitors will be allowed to replace that tire with a used tire that is of the same size and compound of the damaged tire and approved by officials to allow them to retain their starting spot. Tire must be presented to officials and approved/marked for competition.
For further information regarding technical questions, please contact the following:
Super Late Models (Iron Man Super Late Model Series Rules) – Chris Tilley (828)361-5981 or tilleyracing@gmail.com
Crate Racin' USA – Call or TEXT (678)719-8888 or adam@crateracinusa.com
TST Sportsman, Hot Shot, Factory Stock – Brian Casey (256)499-2958
General Track Questions – Call or Text (256)831-1413 or talladegashorttrack@gmail.com
Back to News