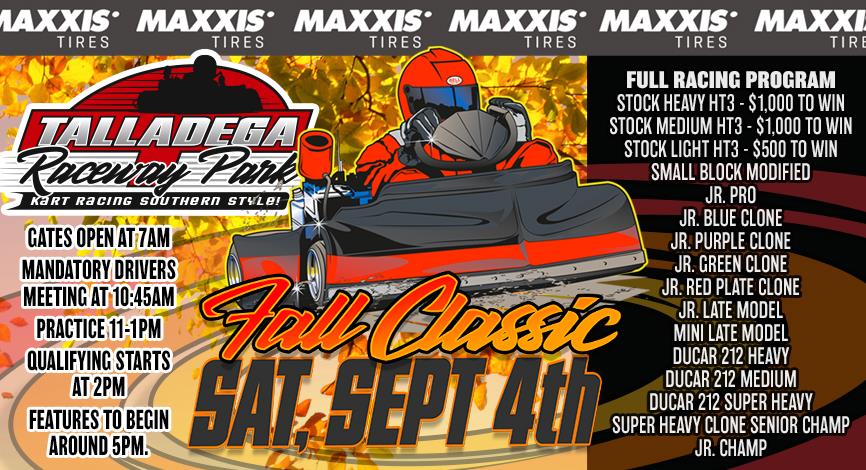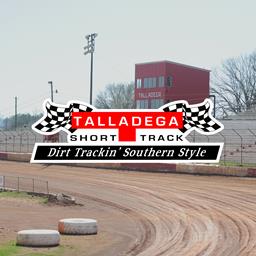 8/31/2021
Talladega Short Track
---
Talladega Raceway Park | September 4th
News and Notes for this Saturday, September 4th, 2021 FALL CLASSIC Event:
• ALL Karts and Kart Trailers/Haulers will enter the Stock Car track Pit Entrance for this event!
That is the gate on the opposite end of the property from our usual Kart track entrance. This will allow us to open multiple windows for ticket sales and allow staging of trailers for parking down the back road to expedite getting everyone in and parked.
• Pit Gates Open at 7 AM
General Admission: FREE!
Pit Admission: Adults $25, 6-10 $10, 5 and under FREE!
• Concessions will serve FRESH breakfast – Biscuits (Chicken, Sausage, Bacon, Egg, Cheese) and Hashbrowns
• Grandstand Entrance gate will open at 12 Noon for Spectators (If you come before 12 you will be required to purchase a pit pass to enter through the pit gate!)
• Mandatory Driver's Meeting at 10:45 AM
• FM Radio station with Track PA – 99.9 FM
• Open Practice is from 11 AM until 1 PM (First hour is Kids, Adults, etc. then 1 round of controlled practice).
• Qualifying will begin at 2 PM
• Features tentatively to start around 5 PM
• Official Fuel Stops – Mapco @ Exit 173; Travel Center @ Exit 168
• $5 Transponder Fee for all entries
• ALL classes will be under NKA engine rules.
• NO Body Height check in Jr. or Sr. Classes
• Age 14 & Under may run Jr. Pro
• PLEASE TAKE ADVANTAGE OF PRE-ENTERING!! You will just have to pay and pickup your transponder to make your wait quicker! There will be a separate line for Pre-Entered Drivers!
• Click the following link for Pre-Registration: https://www.myracepass.com/tracks/3782/registrations/4698
Look for more information throughout the week and be sure you are prepared to get parked and registered upon arrival!
Parking Spots and Tech Questions can be directed to Mike Cofield at (256)689-7894.
---
Submitted By: Adam Stewart
Back to News