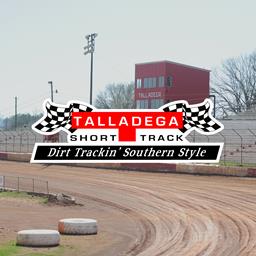 11/3/2021
Talladega Short Track
---
31st Annual ICE BOWL Updated Schedule and Information
The Annual ICE BOWL at Talladega Short Track in Eastaboga, AL will see a revamped schedule of events for the 31st running of the early season winter pilgrimage to the track affectionately called "The Hornet's Nest". For the 2022 season, track officials have revised the schedule of events to allow competitors the chance to get all the racing action completed in one weekend, with a built-in rain/weather date and one less day of on track action.
The 31st Annual ICE BOWL will kick off with on-track action Thursday, January 6th, 2022 with Open Practice from 12 Noon Until 6 PM. Friday, January 7th will see Gates Open at 8 AM; Driver's Meeting at 9:30 and Hot Laps at 10 AM. All Qualifying and Heat Races will be contested for all divisions on Friday January 7th. Then on Saturday, January 8th, 2022, Gates will again open at 8 AM; Driver's Meeting at 9:30 and B-Mains will hit the track at 10 AM followed by the 31st Annual ICE BOWL Feature events.
Sunday, January 9th, 2022 will be utilized as a rain/weather date if necessary. The updated format and schedule changes allow competitors and fans the opportunity to get all of the racing action complete and back to their homes on Sunday, but also keeps Sunday open as an option should the unpredictable weather become a factor during the weekend. With Sunday as an option, race teams and fans would not have to make a return trip to the speedway should a delay occur on any day of the event, especially Championship Day.
More details will be released in the coming days and weeks leading up to the event, but we felt it imperative to get the dates and "rough" schedule out to allow fans and competitors time to schedule time off and accommodations for the event.
Classes competing in the 31st Annual Ice Bowl include the following:
Super Late Models
TST Sportsman/Limited Late Models
Crate Racin' USA Dirt Late Models (604)
Crate Racin' USA Street Stocks
Crate Racin' USA Late Model Sportsman (602)
Crate Racin' USA Modified Sportsman
Factory Stocks/Pure Stock
Hot Shot/Hornets/Buzz
ALL divisions will run their qualifying and heat events on Friday, and ALL B-Mains and Features will take place on Saturday.
Look for more information regarding rules, payout, and other specifics concerning each division.
---
Submitted By: Adam Stewart
Back to News